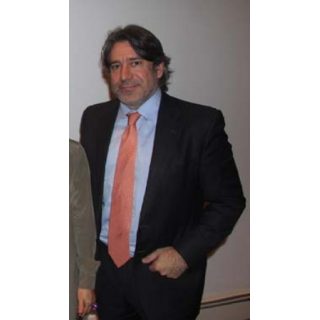 Murcia Spain – 1945
In November of 1986, Gabarrón was commissioned to create the magnificent Olympic Mural, "History of the Olympics," for the 1992 Games in Barcelona. It is the largest mural in the world with sport motives. The massive work (300' X 20') spans the back of the baseball stadium built as a venue for the Games. The mural starts with the courier Pheidippides, who ran 42 kilometers to report the victory at Marathon, and finishes with an athlete passing a baton on to the city of Atlanta for the 1996 Centennial Games. There are 150 characters in all, representing the history of sport in humanity.
Maestro Cristóbal Gabarrón, one of the most representative painters in the last third of the century, was born in Murcia, Spain, on April 25, 1945. Dedicated to painting since the age six, he offered the first example of his ability in 1964 with a group of figurative paintings. Soon thereafter he evolved into an abstract artist. Through the years Gabarrón has evolved into an accomplished painter, sketcher, engraver, portrait artist, mural artist, sculptor, architect and landscaper.
Since the late 1960s, Gabarrón has showcased his work in over 80 individual and 100 group exhibitions around the world. In March of 1986 the world Federation of United nations Association reproduced one of his works, "Our hope for Peace," to commemorate International Peace Year. A limited edition lithograph was printed, as was an official stamp released on June 20 by the Federal Republic of Germany.
In recognition of Gabarrón's accomplishment, the United States Sports Academy selected him as the 1992 Sport Artist of the Year by unanimous vote of the American Sport Art Museum and Archives (ASAMA) Board of Trustees. On July 10, 1992, the Academy presented Gabarrón with an honorary doctorate.
Later that year, Gabarrón produced an even mural (roughly 100,000 square feet) for the Seville Expo '92 celebrating the 500th anniversary of the discovery of America by Christopher Columbus. The work was structured in six great pieces which could stand alone artistically, but together conveyed a unique message of integration, harmony and solidarity among the three cultures that existed in Seville during the 15th century – Jews, Christians and Muslims.
The fabulous Gabarrón Museum was established in June of 1992 by the city of L'Hospitalet, Spain. City officials presented the artist with a beautiful castle in which to showcase his work. The permanent and exclusive museum contains most of the original sketches of the "History of the Olympics."
In September of 1993 the Cristóbal Gabarrón Foundation was created in Valladolid, Spain. The purpose of the private non-profit organization is to protect and spread culture through the arts and research. Among its man objectives is to study, research and divulge the artistic works of Gabarrón.