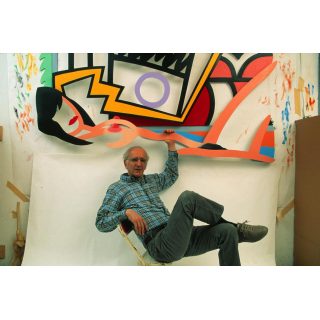 Cincinnati, OH United States – 1931 -2004
Wesselmann became one of the leading American Pop artists of the 1960's.
He was born on February 23, 1931 in Cincinnati, Ohio. After a two year enlistment in the army Tom attended the University of Cincinnati where he received a bachelor's degree in psychology in 1956. Throughout his enlistment and education Tom had been cartooning and it was only after graduating that he decided to pursue cartooning as a career. He enrolled in the Art Academy of Cincinnati. Once graduating he moved to New York City where he had been accepted into the Cooper Union. In 1959 he received his diploma and had shifted more towards fine art.
He stayed away from abstract expressionism and went on to become one of the leading Pop artists of the 1960's. He created collages and assemblages incorporating everyday objects and advertising ephermera. This continued throughout the 1970's while he was writing an autobiography which documented the evolution of his artwork through 1980. For more than four decades he lived and worked in New York City with his wife, Claire, daughters Jenny and Kate, and son Lane. He died on December 17, 2004 leaving behind a legacy in the art world.
Showing the single result