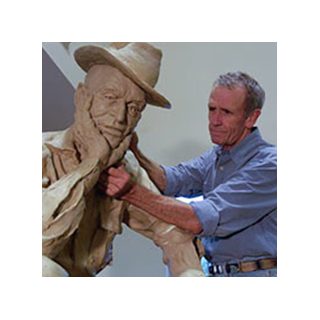 St. Louis United States – 1942
"Harry Weber's dramatic sculptures embody action with a style developed from a lifetime of sketching. His captivating bronzes sculptures are fluid and natural, never appearing static or posed." — Sports Achievers, Inc.
Harry Weber was born in St. Louis, Missouri in 1942 and educated at Princeton University where he studied art history.Following his education, Weber served six years in the United States Navy. This included a year on river patrol boats in Vietnam where he compiled a compelling series of drawings chronicling his experiences there.
Two of his sculptural groups have been designated National Lewis and Clark sites by the Federal Parks Department. This includes a twice life sized grouping of Lewis and Clark on the St. Louis Riverfront which commemorated the final celebration of the bicentennial of the expedition. He was selected in 2010, in a national competition, to sculpt a statue of Dred Scott and Harriet Scott, which was unveiled on June 8, 2012 at the Old Courthouse (St. Louis, Missouri) where the Supreme Court Decision was made.
His sculptures of famous sports figures are prominent features at twelve different professional and amateur stadiums, including Busch Stadium in St. Louis, MO, the TD Garden in Boston, Massachusetts, and Kauffman Stadium in Kansas City, Missouri. In 2011 he was named the Sports Sculptor of the Year by the United States Sports Academy.
As a sculptor, Weber has produced a body of work of over 90 large and more than 200 smaller pieces. His work embodies human emotion and power with a spontaneity developed from a lifelong habit of sketching from life. He creates sculptures, which capture an instant, never static or posed with a distinct style, which makes maximum use of the natural fluidity of the bronze medium.
Weber sculptures have won major awards at national juried competitions, and are in private collections in the United States and abroad, and have appeared on the covers of several national magazines. His sculptures have been featured at the Museum of Fine Arts in Newport, Rhode Island and are in the permanent collections of he National Dog Museum and the Baseball Hall of Fame in Cooperstown, New York.