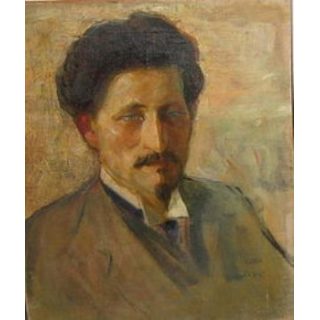 Carl E. Wallin was best known for his oil paintings like landscape with figures (landscape art), especially winter landscape painting, portrait painting, figures (drawing), nature painting and symbolic fantasy compositions, related to symbolism (arts). Sometimes he also focused on illustration of biblical and mythological figures, e.g. from the greek mythology. Wallin mostly earned his living as an independent painting contractor with his own staffing agency. He was aliasis: Carl E. Wallin, Carl Ephraim Wallin, Carl Wallin, CE Wallin.
Carl E. Wallin was the son of the local farmer and carpenter Alexander Wallin (1839–1929) and his wife Inga Helena Larsdotter (1841–1887), both of them from Vikbolandet. Carl E. Wallin was the brother of the Swedish artist David Wallin (1876–1957) and he was the uncle of the Swedish artist Bianca Wallin (1909–2006) and the Swedish artist Sigurd Wallin (1916–1999). In 1907 he married Hilma Högberg (1887–1951). He became an American citizen in the early 20th century.
After finishing school Carl worked as a painter's apprentice at 17–18 years of age (1896–1897). In 1898 he moved to Norrköping. He was a non-commissioned officer in Vaxholm in the Stockholm archipelago at The Royal Coastal Artillery Regiment of Vaxholm (Sweden), (KA1), in the Swedish Coastal Artillery, which was just formed in 1902, at 21–23 years of age (1900–1902).
At the age of 23 Carl E. Wallin emigrated to the United States of America in December 1902, and at first he came to Denver in Colorado. From Gothenburg he travelled by boat, by the American lines steamship S/S Rollo, to Grimsby seaport on the eastcoast of England and then by railway via London to Southampton on the south-east coast of England. From Southampton he departured by steamship S/S Saint Paul to New York. "After crossing the ocean in 7 days" he arrived in New York on December 14, 1902. From New York he travelled via Chicago and Kansas City, Kansas, and then he arrived in Denver in Colorado.
He stayed in Denver and worked during the days and began studying at an art school in the evenings. Carl E. Wallin had, like his older brother, the artist David Wallin, always been interested in art and got after his arrival to America, "the opportunity to study at Reed's Art School in Denver, Colorado, where he studied at evening teaching for two years (1903-1904)". In 1904 he moved to Chicago, Illinois. Chicago was the city with the second highest number of Swedes after Stockholm, the capital of Sweden (in the year 1900). By then, Swedes in Chicago had founded a church and established such enduring institutions as a hospital and a university. Chicago is the largest city in the state of Illinois.
In Chicago he settled down to study at the art academy at The School of the Art Institute of Chicago (SAIC), Illinois, where he studied for three years (1905–1908). The school is also associated with the encyclopedic fine art museum the Art Institute of Chicago. The School of the Art Institute of Chicago (SAIC) is one of America's largest independent schools of art and design, located in The Loop, Chicago.
Carl E. Wallin mostly painted in oil and his subjects were portraits and landscapes, often winter motifs, and figures, nature pictures and symbolic fantasy compositions. He was often known for landscapes with figures which was his speciality and he often painted in oil in the style of early 20th-century modernist painting before 1950. He owned an awaken eye for the beautifulness in the nature and for a long time he strived to render everything as true to life as possible on his canvases. Later on his development led into another direction. That was the idea or the thought behind the work of art that was so much important from his part of view. His works also showed a great richness of ideas and fantasy. He did not belong to the ultramodern school. He himself thought that a work of art was unsuccessful if not anyone else but the artist himself could understand it. There ought to be an idea behind every painting.
Wallin's genius is peculiarly his own. He is original and his paintings of fantasy are creations of his own, which remind one of the work of the French artist Gustave Doré. Gustave Doré is an artist who has been labeled in the art genre fantastic art. Many of Wallin's paintings have won signal honors at the Chicago Art Institute, where he was a student for four years. He has won several prizes. There are inspirations of biblical figure paintings in the oil paintings "Gethsemane" (1931), "Spirit of Allegheny Mountains", "Nymphs beside pool", "Nude on beach", " Garden of Eden", " Sorrows before Paradise" and "Heaven and Hell" and of his mythological figure paintings from the greek mythology in "Siren" (1934). Wallin executed many figurative art works and landscape art works in a quasi-symbolist style.
Showing the single result