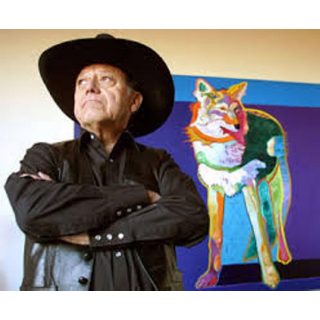 United States
Nieto sought to depict positive ideas of peace and loyalty — words that later became the title of a portrait commissioned for the 2002 Winter Games The assignment was Nieto's fourth piece destined to be included in the Cultural Olympiad — the part of the Olympic Games that focuses not on sports but on sharing the arts.
John Nieto calls himself an American artist who paints Indians, not an Indian artist. An acclaimed leader of his field, but taking a separate path to represent Native Americans in striking symbolic portraits, Nieto is exhibited worldwide and has had paintings accepted for the Presidential library.
He does not attempt to be authentic, but to show a core Native spirit. His Indians seem to belong to a universal tribe that suggests a common, Far Eastern origin, and connection with a contemporary group.
Early this century, Indian artists were cultivated in a white man's school and encouraged to portray ancestral and reservation experiences. Art from that period was inauthentic and oblivious to world trends. Since mid-century, Indian-born artists began to tell a bitter truth of Indian pain from alcoholism and other social problems.
John Nieto belongs to neither camp. His Indians are not idealized or troubled. They are potters, warriors, silversmiths or shamans in traditional garb, as well as indigenous wildlife, painted in brilliant, oddly paired colors and radiating a quiet dignity.
"There is no formula for my faces. I paint the dance of identity around the pan-Indian bone structure of all Native Americans. I am painting a person, but I am painting much more than that," says Nieto. He says that his art "is the result of an emotional involvement with my subject matter rather than a cerebral one."
He uses broad strokes and thick layers of brilliant colors with a halo of contrasting color traced around each figure. His electric hues are unmistakable. Nieto's work reflects his upbringing from Hispanic and Indian-born parents. His distinct style comes not only from his native New Mexico, where he still lives, but also from a global awareness and travels to Europe.
His unfettered use of brilliant colors has been likened to the Fauves of the 1920s' French movement. Nieto has spent time in Paris and also seems to be influenced by European expressionists who released the subconscious onto canvases. He also uses painting techniques and a spiritual awareness from the Far East.
His approach is ritualistic. "I'm in a trance when I paint. It's like being a drummer; you don't look at the drums, you just know intuitively where they are."
An artist of established international reputation, Nieto's work has been exhibited in Europe, Japan, Latin America, and Africa, in addition to his annual shows in Santa Fe, New York and Palm Springs. In 1981 his work was exhibited at the Salon D`Automne/Grand Palais in Paris, France. His work, the subject of two books and numerous articles, is also represented in the permanent collection of the National Museum of Wildlife Art.
In 1994, Nieto received New Mexico's Governor's Award for achievement in the Arts. He has served on the Advisory Board of The Wheelwright Museum in Santa Fe, the Advisory Board of the Native American Preparatory School, and is a Regent at his alma mater, Southern Methodist University in Dallas, where he received his Bachelor of Arts Degree.
John Nieto lives and works in Corrales, New Mexico, on the banks of the Rio Grande River. His roots run deep in the state of his birth, with ancestors going back more than 300 years.
By 2005, the art world had all but closed the books on the possibility of new John Nieto works. "I had given up any hope he'd ever paint again," said his wife, Renay Nieto. "We gave all his things to a friend of Anaya's who also is a painter. We kept nothing. And July 8, he woke up, got out of bed and walked around the house and came back to me and said, 'Where's my stuff?' as clear as a bell. I've never been so astonished in my life. It wasn't gradual. He just woke up and was completely better. It gives people hope that the will survive, that they will come back."