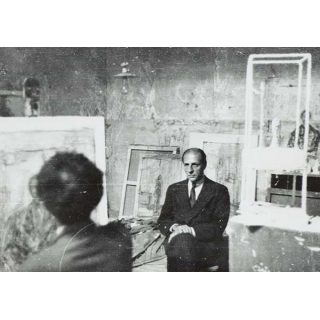 Bohain-en-Vermandois France – 1900 -1989
Pierre Matisse was an art dealer active in New York City. He was the youngest child of French painter Henri Matisse.

Pierre Matisse French Artist: b. 1900-1989. Pierre was born to Henri Matiise, as the youngest child. As a result he grew up immersed in the world of art. Pierre's childhood involved the artistic life of Paris and the French Riviera. The Matisse family often moved, "entourage" from one location to another, in France and Spain during his early years. He had the opportunity to meet and spend time among some of the most famous artists of this century, Pablo Picasso, Georges Braque, Aristide Maillol, Jean Effel, Salvador Dali, Pierre Bonnard, Marcel Duchamp, Fernand Leger, Maurice De Vlaminck and Auguste Lumière. After twenty years as a cartographic manager, for a government agency, Pierre, to put it in his own words "retired from conventional work." For a character like him, idleness is an anathema, so now Pierre is using his creative talent and boundless energy as he puts it "operating where the dragons live". Painting, writing, teaching. He has redefined an art form known as cuts outs and artist hand pulled linocut prints. Pierre enjoys translating compositions and creating original compositions in different mediums, including new avant garde mixed media and exploring and integrating the newest technologies. Today the dream and plans for this new artistic exploration and using his art to help others has become the driving force in Pierre's life. Above all, Pierre believes in freedom, as do all artists.
Showing the single result