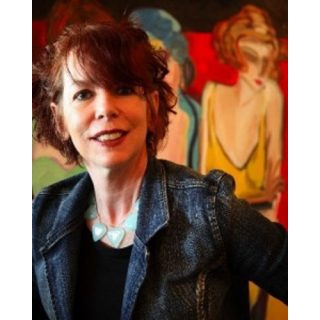 United States
The U. S. Olympic Committee selected California artist Susan Menders as Official Olympic Artist. The painting, "All Eyes on Me," a vivid oil on canvas, will be distributed around the world as limited edition posters and prints
Manders, artist and teacher, shares her love for the creative process with children and adults through her art school and studio gallery, The Art Experience (established 1978). Born in Los Angeles, Manders brings her creative interaction to her community to both heal and energize. Her biography appears in the current editions of Marquis' Who's Who, Women in America, Who's Who in America and Who's Who in the World; and her work is archived in the Library of the National Museum of Women in the Arts in Washington, DC.
"Painting coincides with the process of my living, which to me is synonymous with risk taking," say Manders. Staying current with the latest technology, she is a graduate of Silicon Graphics, Silicon Studio, through which she is producing digital reproductions. In 1971, Manders earned her BA Degree from California State University, Northridge, California and then pursued graduate studies in painting in UCLA, the University Of Guadalajara, Mexico, Otis Parsons and the Royal College of Arts in London.
Manders' challenging, colorful paintings have been featured in numerous solo and group exhibitions, including LA Art Installations I, Los Angeles, California; Hilderbrand Galleries, New Orleans, Louisiana; Otis Parsons, Los Angeles, California; The Royal College of Arts, London, England; The Federal Building, Los Angeles, California; Sherman Oaks. California; Goldfarb-Vein Gallery, Beverly Hills, California; Emerson's Gallery, Sherman Oaks, California; Raphael's, Beverly Hills, California; Monteserrat Gallery, New York, New York; The Parents Foundation, New Haven, Connecticut; Bistango Studio Gallery, Irvine, California; Project Studio 8, San Francisco, California; The 4th UN World Conference on Women, Beijing, China; USC Entertainment Technology Center; and ASI Entertainment, Glendale, CA.
Manders' work is also on display in many corporate collections, including Fox Studios, Los Angeles, California; Warner Bros./Lorimar Productions, Los Angeles, California, and Cohen & Johnson, Beverly Hills, California. Her painting, 'Gotta Go Now," appeared on the June, '95 cover of "On The Boulevard" (circulation 500,000) distributed in Pasadena, West Hollywood, Santa Monica, and the Ventura Boulevard Area. Her animal paintings are featured at SPCA LA Shelters and stores along with her cards. She is featured in the September issue of SPCA LA magazine, as well as in Noho Magazine, and monthly in Art Scene Magazine. Additionally, her work has appeared in the LA Times and is quoted as "an artist that paints in vivid flamboyant art that is over the top." It is feel good art without apology.
Mander is a member of the LA Art Association, the Beverly Hills Art Association, and the National Museum of Women in the Arts, the National Association of Women Artists, the American Association of University Women and Women in Animation. Her work is archived at the National Museum of Women which is an adjunct of the Smithsonian.
As part of Manders' community outreach projects, she teaches at local schools, offer scholarship classes at her studio, offers herself and her studio to the media to report to the community on art and children's issues. Most recently, Manders was featured in various television and print segments helping to find homes for orphaned children while engaging them in art activities. She was also featured in SPCA LA magazine as an artist outreaching to help animals.
Showing the single result