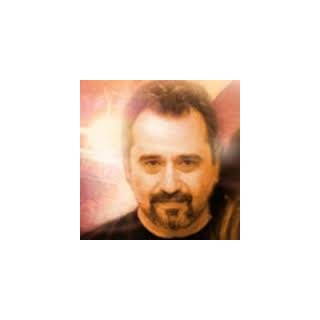 United States
In 2002, Kastaris was commissioned to create images to commemorate hockey, skating and skiing for the Olympic Games in Salt Lake City Utah.
Inspired by the Spirit, myth and magic in Hellenism, internationally recognized artist Euripides "Rip" Kastaris is making his creative mark on contemporary culture. From the Rock Star Sting to the Olympic Committees of both the United States and Greece, various prestigious individuals and organizations have commissioned Kastaris to create original paintings, electronic media presentations and published prints. "KYKLOS" his epic mural commissioned by the Hellenic Cultural Foundation resides permanently inside Athens Olympic Stadium's VIP Salon. Rip has been profiled in the PBS documentary series "The Greek-Americans" and on the "Horizons" international satellite television show out of Athens. He has been a guest numerous times on the international ERT Radio program, "Voice of Greece" and in 2003 he received the prestigious Artist of the Year Award from the Elios Society in San Francisco.
Rip Kastaris' successful 25-year artist career began as a designer and commercial illustrator before he more fully pursued his passion for fine art. He is the first Hellenic-American to be chosen by the United States Olympic Committee (USOC) to commemorate US athletes. His company and studio, Petra Fine Art, Inc., is based out of St. Louis, Missouri. However, Rip's works have been prominently displayed, published and distributed throughout the United States and abroad. Kastaris has also served as Creative Director for the Hellenic Cultural Foundation since 1999. His artistic career includes lectures and presentations where institutions and organizations continue to request his skills as a communicator as well as a creator.
Rip's contemporary fine art reflects his depth at understanding and translating themes from antiquity and Orthodox iconography. This includes his signature style of using gold leaf, jewel-toned color and aged textures in his paintings and sculptures. His original award-winning Olympic works include the "Fire and Ice" series (2002 Olympic skiing, ice skating, and ice hockey), the 2004 Athena series honoring US Athletes participating in the Athens Olympiad, and the epic Olympic mural "Kyklos – Circle of Glory" in Athens Olympic Stadium. This year he completed numerous commissions to produce Byzantine Icons for Orthodox Sanctuaries and private collections. New works include a series called "Art Fresco" inspired by ancient black figures on ceramics and "Island Pascha" his newest impressions inspired by Greek Island Churches in landscapes during the wildflower season at Easter.
The son of a Greek Orthodox priest, Rip Kastaris immigrated to the United States as a young child with his family as part of his father's mission. Rip graduated from Washington University in St. Louis as Valedictorian of the School of Fine Arts and has also served as an adjunct professor there. His formal education has been supplemented by visiting and researching many historical sites, museums and ancient Greek monasteries. Kastaris has three children, lives and works in the historic Holly Hills neighborhood of St. Louis, Missouri.