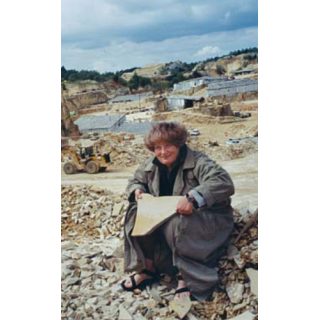 New Milford, Connecticut United States – 1947
A native of New Milford, Connecticut, Cynthia Osborne received a BA in Studio Art (1969) from Connecticut College and an MFA in Printmaking (1971) from the University of Wisconsin-Madison. Other education includes a Tamarind Lithography Workshop and Lithographic History Seminar at the Rare Book School in Virginia. She has exhibited in group juried and invitational shows throughout the United States and internationally, and held a MacDowell Colony Fellowship. Her work is in the collections of the Los Angeles County Museum of Art, Brooklyn Museum, Whitney Museum and Smithsonian Museum of American Art. Osborne has been on the faculty at CSULB since 1975, and currently teaches Lithography as well as holds the positions of Graduate Advisor and Student Gallery Director for the School of Art.
Professor Osborne's prints have been concern with narrative imagery in the tradition of the rendered lithographic crayon drawing on stone, with forays into tusche washes, transfer processes and screen printing. The subject matter of recent work has dealt with a personal take on the meanings of prehistoric megalithic monuments, while the intent for an upcoming series is to return to a consideration of the presence and/or predicament of animals on a mega, if not lithic, scale, the great whales.
Recent activities, while not pushing students through the graduate program and scheduling exhibitions, have included: organizing a Bicentennial of Lithography Workshop for the 1998 CSU Summer Arts program; presentations at Southern Graphics Council National Printmaking Conferences; and participation in several portfolio exchange projects — in particular, Drawn to Stone, in honor of the anniversary of lithography.
Showing the single result