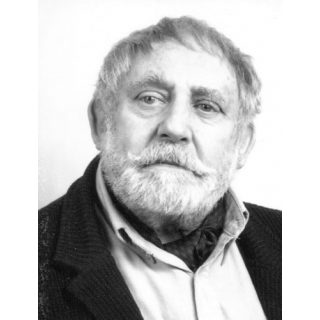 United States – 1913 -2009
in 1929, at the age of 17, he moved to Berlin at the invitation of his father and studied Drawing at the college of Arts and Crafts (Kunstgewerbeschule Ost am Schlesischen Bahnhof). A year later, he went to live with his mother and his grandmother, in Munich. Balet transferred his studies to the Munich College of Arts but was dismissed in 1932. He went on to study with Professor Ege, at a private school for commercial art. During this time he also worked at an institute for lithography and for the art gallery Wallach. Balet rented his first small studio at the age of nineteen, where he manufactured and sold hand colored Bavarian woodcuts. 1934 he passed the entrance examination to the Akademie der Bildenden Künste München and undertook further studies with Olaf Gulbransson.
In early 1938 Balet was recruited by the German military and because his ancestor's passport was not complete, he was forbidden to associate further with the Akademie der Bildenden Künste München. Later that year Balet emigrated to the USA, settled in New York and painted rustic furniture for a living. One winter he jobbed as a skiing teacher in Vermont and occasionally jobbed as an advertising commercial artist. Among other projects, he painted the cafeteria of the largest of New York's department stores R.H. Macy. He married a young woman named Bertha Quinn and in 1940 his son Peter was born. From time to time Balet's designs appeared in the fashion magazine Mademoiselle and in 1943 he became Art Director at the magazine. Balet became so successful as a commercial artist that he was able to give up paid employment and start his own business. He worked for the radio station CBS, magazines such as Vogue, House and Garden, House Beautiful, The Saturday Evening Post, Glamour, Good Housekeeping, This week. After the war ended in 1945 he acquired U.S. citizenship. In 1945 Balet and his wife divorced and Peter and his mother went to live with her parents in Ballston Spa, NY. Balet commuted between his studio in New York and an old, boat house in the dunes of Montauk, Long Island, which he had converted to a studio where he painted and drew. His first children's book Amos and the Moon was published in 1948. Soon after he travelled to Europe to visit his mother and his grandmother in Munich and then spent two months in Paris, which provided great inspiration for his future work. His grandmother died in 1949 at the age of 93 years and Balet said she had been "the most important and dearest person" in his life. Around this time Balet began a relationship with American photo model Lisa Tallal, whom he married a few years later. Balet sold his boat house and purchased his dream house, also on Long Island. Balet and his wife enjoyed an expensive lifestyle which required him to focus on commercial art. During travels to Europe and Mexico Balet took many photographs, since there was insufficient time for drawing. Despite what was regarded in the USA as fashionable art Abstract, Op-art and Popart Balet continued to paint in his own style. His mother died in 1963 and he inherited the house in Munich. As a former pupil of Olaf Gulbransson, Balet was invited, in 1964, to present an exhibition in the Pavillon Alter Botanischer Garten Munich. Many of his children's books and illustrations were included in the exhibition as well as a variety of his commercial artwork. This encouraged Balet to keep on painting in his special style.