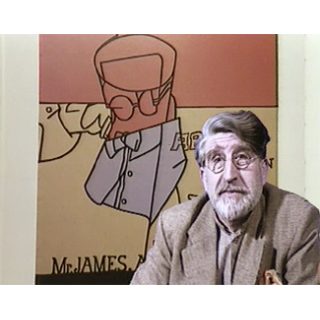 Bologna Italy – 1935
"[Adami's] distinctive use of flat color, which he has been employing since the mid-1960s, brilliantly marries the color printing of Hergé's Tintin books and medieval stained-glass; the stylized eroticism of his sinuous line and his eye for the fetish object is every bit as seductive as John Wesley's, and often much grittier…" – Raphael Rubinstein
Adami was born in Bologna on March 17th in 1935. At the age of ten he started studying art under Felice Carena. After getting accepted into the Brera Academy (Accademia di Brera) he would study there from 1951 to 1954 as a draughtsman in the studio of Achille Funi. He went to Paris is 1955 where he would be influenced by Roberto Matta and Wifredo Lam. His first solo exhibition cam ein 1959 in Milan.
His earliest works (around the time fo his frist exhibition) were expressionistic. Once his second exhibition, in 1964 at Kassel, came around his style had developed into one reminiscent of French cloisonnism. His paintings would feature regions of flat color bordered by black lines. Adami's subjects were highly stylized and often presented in fragments, as seen in Telescoping Rooms (1965).
By the 1970's Adami had started to address politics in his art and used subject matter such as modern European hitory, philosophy, myuthology, and literature. In 1974 he illustrated a Helmut Heissenbuttel poem, Occasional Poem No. 27. Ten Lessons on the Reich with ten original lithographs.
Showing the single result