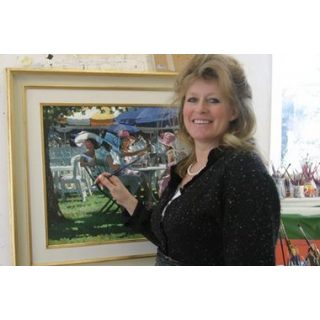 Effinghamg, Surrey – 1956
Sherree was born in Effingham in Surrey. After completing her early education, she studied at the Epsom School of Art, where she undertook a fine art course.
With a discerning international following of art lovers Sherree enjoys an unrivalled reputation for her stunning figurative compositions. While accuracy and precision are her hallmarks, she maintains a unique ability to create an atmosphere of lazy hedonism, and effortlessly draws us in to each beautifully evoked golden moment. In addition, she is a highly accurate and factual artist; her impressionistic approach eliminates artificial hard edges, yet she describes her subjects in finely rendered detail. She prefers to use oil on canvas as she finds this to be the purest and "most painterly" medium available to her.
Sherree's formidable talent has made her a favourite with many celebrity collectors, including several members of the British Royal Family. Many famous names in the world of show-business have sat for her including Joanna Lumley, John Sessions and Michael Parkinson. She was recently commissioned to paint portraits of Jonny Wilkinson and Martin Johnson for a pair of commemorative Limited Editions (signed by both artist and player) celebrating England's World Cup Victory; the Original of Jonny Wilkinson was bought by the man himself!
Sherree has had many successful exhibitions at venues such as the Mall Galleries and the Royal Portrait Society in London.
Sorry, we couldn't find any posts. Please try a different search.