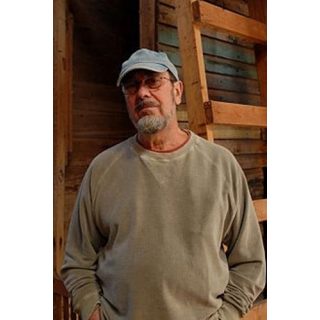 North Tanawanda United States – 1937
"Robert Mangold's paintings," wrote Michael Kimmelman in the New York Times in 1997, "are more complicated to describe than they seem, which is partly what's good about them: the way they invite intense scrutiny, which, in the nature of good art, is its own reward." His works are comprised often of simple elements which are put together through complex means. Mangold's work challenges the typical connotations of what a painting is or could be, and his works often appear as objects rather than images. Elements refer often to architectural elements or have the feeling of an architect's hands. He almost always works in extensive series, often carried through both paintings and works on paper.[3]
Mangold's early work consisted largely of monochromatic free-standing constructions displayed against the wall, such as Grey Window Wall (1964).[4] In 1968 he began employing acrylic instead of oil paint, rolling rather than spraying it on Masonite or plywood grounds. Within the year, he moved from these more industrially oriented supports to canvas.[5] In 1970 he began working with shaped canvases and within the year began brushing rather than spraying paint onto canvas. By the mid-1970s, Mangold moved on to overlapping shapes whose contours are formed by combinations of canvas edges and both drawn and implied lines.[6] A 1994 series consisted of monochrome panels, deployed in two-panel trapezoidal works whose colors, sometimes matching, sometimes contrasting, run to deep oranges, olive greens, browns and grays.[7] In a 2006/7 series, entitled Column Structure I through Column Structure XII, the 12 canvases each have a central vertical trunk measuring 10 feet high and 2 feet wide that is subdivided by straight, horizontal lines and appended with squares or triangles that jut from the sides, usually near the top.[8]
Mangold's paintings, quiet and restrained on the surface, are much admired by artists. In a 1994 review in Art in America, Robert Kushner wrote that "underneath the composure of their execution, there is an almost romantic vividness of experience. The contrast of this veiled undercurrent and the Apollonian restraint of the presentation make these new paintings both powerful and poignant."
Sorry, we couldn't find any posts. Please try a different search.