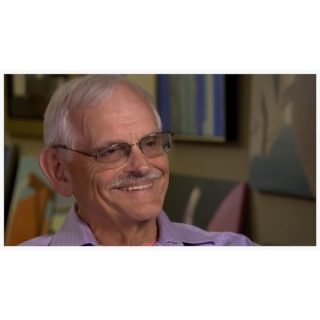 "Richard Haas is an artist about architecture – he makes people stop and think about architecture and realize that buildings are not just a backdrop; they are also an active presence in our lives."
"The art of Richard Haas is at once entirely realistic and quite fantastic…. He imagines architectural elements and then paints them in situations where they achieve a reality, almost a life of their own…
For his varied oeuvre comes together to create a vision of a place, and it is totally of that place that is as important as any message any individual piece might contain… It seems as if it could almost have been, it is tantalizingly, poignantly, close to what is."
From a period when Haas began to make small dioramic boxes of artist's interiors in the mid Sixties and later New York street views, to the time when he was involved in full scale reshaping of urban exterior and interior environments, Richard Haas has been an "urban artist" without peer. He has employed nearly every media available to represent and to alter the urban space. His prints faithfully record great American facades and streetscapes. His paintings do this as well. Some of the prints and paintings also record panoramas of large sections of the American city, as well as views of how the contemporary city interacts with its historic predecessors.
When in his large outdoor and indoor works Haas chose to ignore the existing structural style, an entire world of imaginary and fantastic architectural space was made possible. The mural on the Boston Architecture Center, painted in the on the back of a "brutal style" building became a cross section cutaway of an 18th Century pantheon. A small cubical lobby interior in Chicago became an interior similar to San Miniato in Florence.
There are both interior and exterior murals that tell historical stories. The Oregon Historical Society building in Portland becomes a backdrop for monumental sculptures about Lewis and Clark and the history of the Oregon Trail. Eight niches in the stairway of the Nashville Public library tell the history of that city through maps and aerial views. Several other projects, large and small, tell similar stories throughout the country.
In summary, Richard Haas has employed his extensive knowledge and skill through a multitude of media over more than four decades to see our urban environment in fresh and unique ways.
Sorry, we couldn't find any posts. Please try a different search.