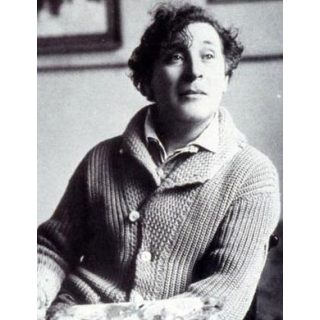 Vitebsk, Russian Empire (present-day Belarus) Russian Federation – 1887 -1985
Chagall saw his work as "not the dream of one people but of all humanity".
Marc Chagall was born as one of eight children of a Russian-Jewish family in Vitebsk/Belarus. His given name was not Marc, but Moses. In Paris – at that time the Mecca of art – Chagall experienced Fauvism and Cubism. Soon he developed his very own poetic style. Besides his paintings and glass-windows for Roman-Catholic cathedrals and Jewish synagogues, he created a rich plethora of prints. As color was of such great essence for his work, lithography became the artist's favorite technique.
Early Lithographs 1922-1923
Chagall was already 35 years old when he started with printmaking techniques. At that time he lived in Berlin/Germany with his wife Bella and his daughter Ida. He created woodcuts, etchings and a total of 24 lithographs. These early prints were drawn by the artist on paper and transformed into lithographs by a professional printer. At that time, Chagall – as so many famous artists – did not yet have the necessary knowledge and skill to master the technical printing process himself.
Etchings for the Publisher Vollard
In 1923 Chagall returned to Paris. He received commissions by the art dealer Vollard to illustrate Gogol's book The Dead Souls, La Fontaine's Fables and the Bible. For all three series, the technique of etchings was used. Vollard died before these illustrations could be finished. They were later published with a huge delay by E.Teriade in 1948, 1952 and 1956.
Exile in New York
In 1941 Chagall went into exile from Nazi occupied France to the United States. He had received an invitation by the Museum of Modern Art in New York. In 1944 the artist's wife Bella died. In his house in High Falls, Chagall created the series Four Tales from the Arabian Nights. This series consists of 12 Chagall lithographs in color. They were first painted as gouaches and then printed in 1948 in the studio of Albert Carman, City Island, New York. It is not known to which degree the artist was involved in the printing process.
During Chagall's exile in New York, he designed the costumes and stage decorations for a ballet performance of Igor Stravinsky's The Firebird. In 1946, the New York Museum of Modern Art had a huge retrospective exhibition of Marc Chagall's prints and paintings. The exhibition was a big success and was later shown in Chicago.
Working with Mourlot and Sorlier in Paris
In 1947 Mark Chagall returned to France. 1950 is the beginning of a completely new era for his printmaking activities. He cooperated with the publisher Mourlot in Paris. At the age of 63, Chagall more or less learned the art of making lithographs from scratch – like an apprentice. The teacher of this gifted "apprentice" became Charles Sorlier, a professional and exceptionally talented printer. Under the guidance of Sorlier, Chagall worked regularly in the printing studio of Mourlot. In this period he created his graphic masterpieces like Daphnis and Chloe. Marc Chagall prints are usually limited to an average of 50 copies, signed and numbered by the artist. In addition to these numbered prints, about a dozen artist proof prints – numbered in Roman numbers and printed on different paper – were produced. From 1950 on, Velin d'Arches or B.F.K. de Rives paper was used. These papers have watermarks. Both paper brands are not purely white, but are slightly toned. But editions printed on Japan paper (Japon nacre) can be found as well. Apart from the prints in a very limited number, also large editions of up to 15,000 copies were produced and published in magazines like Derriere le Mirroir and XX Siecle. Chagall Marc used lithographs for all kinds of occasions – like for instance menu or birthday cards.
At the end of his life, the artist had created more than one thousand prints – mainly lithographs and etchings. He died at the age of 98 on March 28, 1985 in Saint-Paul in France. His works are sought after by art lovers and museums all over the world. Chagall is considered as one of the greatest artists of the 20th century.
Sorry, we couldn't find any posts. Please try a different search.