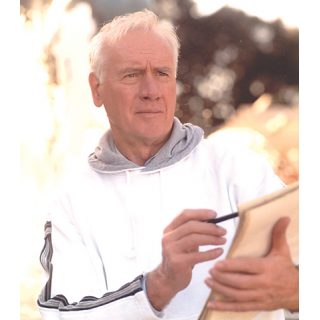 Chicago, IL – 1933
"Many years ago, I learned that the only way I can really achieve what I feel in my paintings is to create them using a palette knife instead of a brush. I love the boldness of the knife, and the control I have of color. Using the knife, I find that I can capture not only the softness of clouds, but also the boldness of mountains, the vibrancy of flowers, and the strength of water. I move the knife furiously as I apply deep, rich color in many layers to achieve dimension and mood." – Howard Behrens
Howard Behrens was born in Chicago, Illinois and now resides in the Washington D.C. area with his wife Judi. Together they travel the world to find the gardens, inns, vistas, and villas that Howard Behrens paints. He has a Bachelor's and a Master's Degree in Fine Art from the University of Maryland.
Howard Behrens has had numerous one-man shows coast-to-coast since becoming a professional artist in 1980. Howard Behrens' works have appeared on the covers of many art publications and Howard Behrens has been the featured subject of several magazines and newspapers. After visiting Giverny, France, last year, Howard Behrens created a Tribute to Monet series that was exhibited at the Embassy of France in Washington, D.C. As an official artist for the 2002 Winter Olympics, Howard Behrens' painting, In Motion, was featured at the games. Howard Behren's works are owned by numerous collectors and are in the permanent collections of many museums.
Sorry, we couldn't find any posts. Please try a different search.